Kiah Jones is a beautiful, intelligent, strong, independent Black woman and one of my best friends.  For almost thirty years, we have laughed, cried, cry laughed, and celebrated milestones in each other's lives.  She is like my sister.  Yet not once in all these years did I ever ask her how the impact of racism in this country played a role in her life.    
Back in the classroom, my students and I learned about slavery, the Civil War, and the Civil Rights Movement with anger as well as passion and hope. We studied protests, read literature, sang songs of freedom, and honored African American history throughout the year.  Even in my years as a digital learning coach and middle school technology teacher, I never really questioned whether I was doing enough.  
A jolt to awakeness by so many like myself who realized we have a responsibility to do more seems to be spreading across the country.  And as awful as I feel that it took me so long to make a deep commitment to be better, I am grateful that I woke up.   When I decided to call Kiah, encouraged by my incredible husband, I was nervous.  I couldn't seem to get this thought out of my head; "What if Kiah thinks the only reason I am calling her is because she is Black?"  I wasn't positive it was even my place to call.  I felt inadequate.  Yet I learned quickly that the more important question is, "What are we saying when we choose not to pick up the phone?"
Appreciative that I had indeed made the choice to call, Kiah left me with this advice: Don't try to take it all on.  You will become paralyzed.  Start with doing one thing in your community.  Although I am committed to teaching my own children about racism, and becoming more actively involved as a community member, I certainly feel empowered as an educator to create opportunities for students to dive deeper.  Teaching several middle school classes next year, I'm not sure exactly where to start.  Yet I have learned to give myself permission in the following areas to make being better a reality. 
It's okay to lean on our colleagues.
Last week, I had the opportunity to attend an online staff meeting run by our two phenomenal middle school principals.  Around sixty people attended and I was beyond impressed and inspired by colleagues sharing the conversations they recently had with students.  Yet the pivotal moment for me came when a colleague took the mic without a story to share.  Encouraged by our principals who were pushing our thinking, he very honestly asked how to open up dialogue in his math classes and how he could get support.
When I saw hands go up immediately motioning to this teacher and to all of us that they were here to help, a bolt of confidence shook me in the right direction and I was suddenly emailing a colleague who I'm now connecting with next week.  I have learned to accept that although I have done my best to honor uniqueness and diversity in the classroom, and even help lead building-wide initiatives, I too need support with specifically opening the door to anti-racism education.
It's not only okay to jump in from any role, it's our collective responsibility.
Although our middle school administrators shared their voices as well as resources in that staff meeting, the most important thing they did was listen.  The goal was clear, to be there for us and to open up the conversation.  By the end of our time together, creating staff and student forums was a new mission.  In fact, just one day later we received a form with the following questions to encourage us to open up and get involved.
How are you doing? *
How are your students doing? *
Would you like support on how to talk to your students about racism in our nation?*
Are you someone who is willing to support other staff members who are asking for guidance on how to address this with their students?*
Are you interested in being part of the student forums?
 If you answered yes, do you want to help facilitate or just be present to listen?
We are being called upon to go beyond what we've done before, to live and breathe beyond our titles, and the words that describe our roles.  I wholeheartedly love my job description, but we don't live on paper.  We are human and what's happening in this country, what has been happening for hundreds of years, is a human rights matter.  With the gift of being educators, we have the opportunity to embrace humanity with each other and with our students.  The questions above and actions they imply honor ALL of our voices and our unique abilities to lead, listen, and be present.
It's okay to lean in, mess up, and learn.
"…we cannot be silent, we cannot NOT talk about this with our students. This is where we lean in to our own discomfort to build a better world for our students."-Dr. Anna Nolin, Superintendent of Natick Public Schools in a memo to all staff last week
I am sure I will make mistakes and learn from them as I lean in to my own discomfort yet knowing I have support makes a huge difference.  I have been receiving professional development around understanding diversity, racism, and implicit bias since becoming a Natick educator.  This year our whole district had the honor of hearing from Dena Simmons, assistant director of the Yale Center for Emotional Intelligence and author of "White Rules for Black People" to be released next year.  Dena rocked our world in an exceptional keynote sharing the power in telling our stories.
Wilson Middle School soon after launched "No Place for Hate" and held staff meetings on topics such as courageous conversations, white fragility, and centering race in our practice.  One of the best hours of PD I ever received was listening to a panel of former  Wilson students share their experiences at Natick Public Schools (most of whom were a part of our incredible METCO organization) and advise teachers on what they can do to support students of color and all students.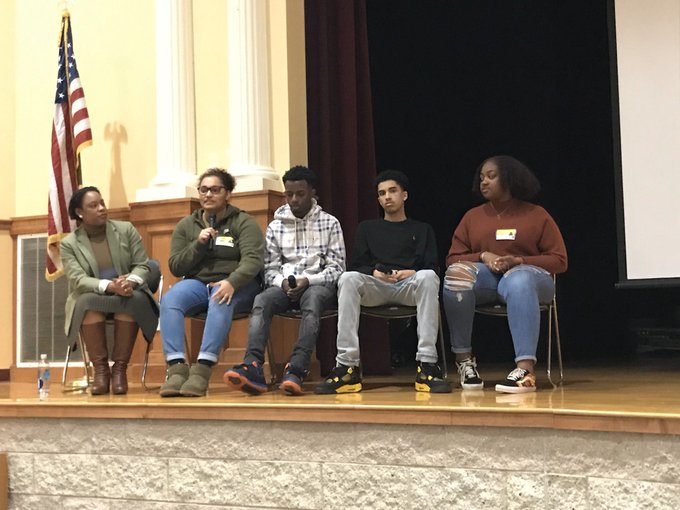 I will never forget the final advice given by a student now in college.  She asked of us that as much as we are teachers, to please learn as much as we can about the lives of our students.
When you attend a meeting after school, it's quite an experience to walk out empowered to not only become a better teacher, but a better person.  Like our students, this is what we crave, for our learning to matter.  I thank leaders everywhere who are providing professional development, support, voice, and resources on topics around racism.  If you are someone who is not receiving the above, I encourage you to ask your district and building administrators for their leadership.  If every school community in our country felt inspired and supported to make necessary change, accepting the risk of discomfort and mistakes along the way, just imagine the ripple effect.
"As a community committed to social justice, we must speak up.  Again, we are confronted with the reality of systemic racism and its impact on Black people in our country.   George Floyd's death was unjust and a tragedy. I am truly heartbroken and continue to find myself without words.  I cannot imagine what our Black and Brown staff and students must be feeling.  But, silence is not okay."-Teresa Carney, Principal at Wilson Middle School in our school community newsletter last week
It's okay to feel overwhelmed and simply start somewhere.
In addition to learning more from the resources provided in Natick, I also want to be up to date with resources on social media, BUT I get easily overwhelmed.  If there is even one person that identifies, I thought I would share where I started.
#DoTheWork by Rachel Cargle, a thirty-day education course on anti-racism, has opened my eyes more than I thought possible. One of the many powerful takeaways so far came from Day 6, Clean House, asking us to commit to the poster on the right.  Thank you, Beth Houf, for sharing and here is a link to sign up to this incredible course.
Beth also shared the powerful webinar below led by Clint Smith through Facing History and Ourselves, a site I have learned is truly amazing.  (A site I am proud to say features Natick's superintendent) Just click on the image below to view the recorded webinar.
I also immediately ordered "The Warmth of Other Suns, The Epic Story of America's Great Migration" by Isabel Wilkerson right after Kiah recommended it.  I am only about thirty pages in, I am already learning so much, and have never been so motivated to understand as much as I can about systemic racism in America.
Finally, I decided to go back to one of Natick's inspirations and subscribe to Dena Simmons' newsletter.  Exploding with her voice as well as powerful resources, her latest  is "What will you do for an anti-racist future?" It is in this newsletter that I found the following quote and post in which she wrote it, "If we aren't addressing racism, we aren't addressing trauma," which I highly recommend reading.
"We cannot tweet away racism. We cannot read away racism. We cannot intervention away racism. We cannot breathe away racism. Educators, and especially white teachers, have to roll up their sleeves, look within themselves, sit with discomfort, reflect on what they can do better, and then live and teach with racial justice as their guiding principle. This work starts with us, but it cannot end with us. It must include dismantling old oppressive systems and structures and building anew." –Dena Simmons
The individuals above, the work they are doing, and the work they have created are certainly inspiring me to keep growing.  I didn't grab it all, but I started somewhere giving me the confidence to not only keep learning, but to "roll up my sleeves" and turn my new knowledge into action.  And it certainly helps to tap into friends, family, and fellow educators who are sharing. 
In fact, I highly recommend becoming a part of the #LeadLAP (Lead Like a PIRATE) PLN and participating in their weekly chat (Saturdays 10:30am EST), which they have just transformed.  You can find more information in their latest post, Leading By Learning, as Beth Houf and Shelley Burgess share that Traci Browder (@TraciBrowder) and Dawn Harris (@DHarrisEdS) are leading them on a journey to learn more about anti-racism education.  The following video explains the launch of a "Grit Crew" to support each other in creating an anti-racism culture in our schools and classrooms.  I participated in the #LeadLAP chat that this video introduces and I'm pretty much still speechless…WOW.
It's okay to admit that I will never understand.
"I've cried every day since Friday…I can see another Black person and not even know their name, but I know and feel their pain. It's a bond we all have that none of us wish we did." –Kiah Jones in a recent text
My mom was born out of the worst act of anti-semitism in history and my existence is so deeply tied to who she is and what I fear.  I understand that hatred existed and continues to exist for those of the Jewish faith.  As a third-generation Holocaust survivor, I carry a weight that has lived with me for forty-one years, one I am often scared to touch.  I also understand the privilege in America that accompanies being white.  I am unafraid to live every day in the color of my own skin.  I do not fear for the lives of my husband and children because of the color of their skin.  I will never understand what it feels like to be a Black individual living in this country, but I will listen, I will learn, and I will act.
A gigantic alarm clock recently sounded.  A wake up call to a deeper understanding, to allyship, and to change.  A couple of weeks ago, I had actually intended to write a completely different post about remote learning, but this couldn't wait.  I woke up from a sleep I didn't even know I was in and that kind of waking up, that kind of realization, can hold incredible strength if we use it to empower ourselves and others.
I will continue to get in touch with my Black friends and colleagues, listen to their voices, and use my own.  I will tap into the wealth of knowledge of my fellow educators and friends, some who have been doing amazing work for years.  I am committed to staying awake, to doing more, to talking with our young people who will one day be leading us all, and I will use the message below to inspire me daily.